AGM
New President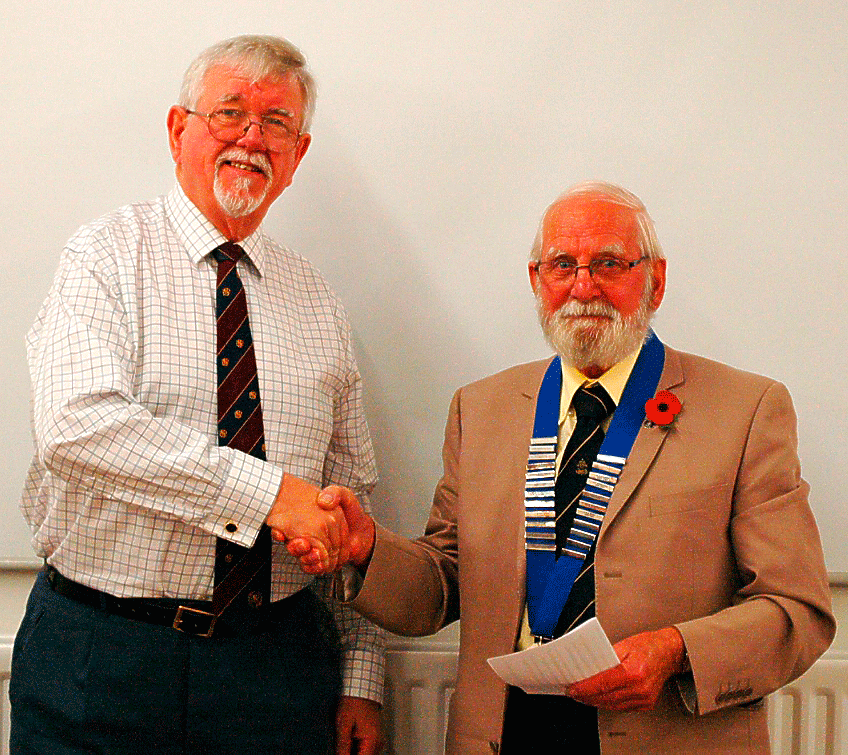 Bill Gibb (left) hands over to Terry Wagg.
Mike Kentzer proposed as new Vice President
---
MAPF Latest Newsletter older versions
Articles in the September edition
Competition Results
Programme and Fair Diary
---
The InterFed Competition at the
ABPS National Exhibition at Stampex
The Federation team:
John Sims; The Mail Carrying Flights of C.T.P. ULM, AFC.
85 points; Gold
Colin Hepper; Nepal - Negative Postal Seals
73 points; Large Silver
Stuart Ross; Nyasaland 1953 Revenue Overprinted Stamps
81 points; Large Vermeil
Eight teams of three from each federation exhibited.
It was especially noted how well the Mid Anglia Federation results compared
with the other exhibitors, considering that most of the other federations
were represented by very experienced, often international level, exhibitors.
The judges were all recent "graduates" from an ABPS exhibiting and judging seminar held in Hitchin.
See the Featured Items (left) for the next seminar in November.
Congratulations to the following Mid Anglia philatelists
who exhibited in the ABPS National Exhibition:
| | | | | |
| --- | --- | --- | --- | --- |
| Traditional: | Philp Waud | Great Britain: The 4d QV Jubilee | | Large Gold |
| | | | | |
| | Jon Higgins | The Queen's head issues of Labuan, 1879-1894 | | Gold |
| | | | | |
| Postal History: | Mike Kentzer | A review of King's Lynn town's pre-stamp postal history, 1732-1840 | | Vermeil |
| | | | | |
| Thematic: | Wojciech Kierstan | Mucha, his art on stamps of Czechoslovakia and Czech Republic, 1968-2010 | | Silver |
| | | | | |
| Open Philately: | Jon Higgins | The railway in North Borneo and Sabah | | Large Silver |
| | Terry Wagg | The life's work of Czeslaw Slania | | Large Silver |
| | Wojciech Kierstan | Operation Anthropoid | | Silver |